Podcast: Play in new window | Download
Subscribe: RSS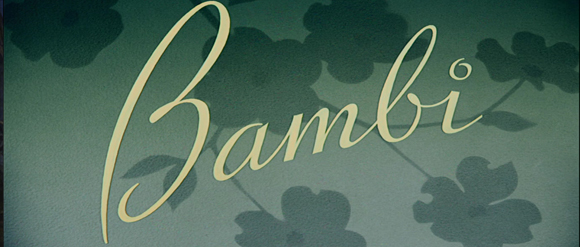 Comparing and contrasting Disney's "Bambi" with the novel "Bambi A Life in the Woods" by Felix Salten. 

This podcast contains certain copyrighted works that were not specifically authorized to be used by the copyright holder(s), but which we believe in good faith are protected by federal law and the fair use doctrine (Section 107 of the Copyright Act).
If you have any specific concerns about this podcast or our position on the fair use defense, please contact us at DSOPodcast@gmail.com so we can discuss amicably.  Thank you.
 Produced By
Vaughn M. Dennis, Tracey Hansen, and Kathleen Hale
Music
"Autumn" by PureComposition
"Cinematic Danger Background Music" by Royalty Free Music
"Dark Tension Rising" composed by Mattia Cupelli
"Melody of my Dreams" composed by Whitesand
"Run" composed by Ross Bugden
Patreon Patrons and Donors
Aaron  ♥   Alexander  ♥  Annie Lilley 
 Ariane Woods  ♥  Cass Morris 
Celeste Weinstien  ♥  Crystal Xavier-Cohen  ♥  Dan Cooney 
Dann Todd  ♥  Doug Fiehwheg  ♥  Erin Audley 
Eduarda Severo  ♥  Jace 101  ♥  Jennifer Clickenbeard
Jennifer Jones  ♥  Joseph Matthews  ♥  Josh Wells 
Kathleen Hale  ♥  Kathleen Kayembe  ♥  Kathrine 
Katie Melbourne  ♥  Kim Slusher  ♥  Kimberly Morrison  ♥  Kyle
Laura Snell  ♥  Lisa Rutledge  ♥  Mads Madsen 
Mark Montgomery  ♥  Matthew Nelson  ♥  Meghan Martin  
Michael Jacobs  ♥  Nicholas Barto  ♥  Patty McEfee 
Philip Joslin  ♥  Princess  ♥  Rachael Ward 
Renee Roub  ♥  Ronda Wilkes  ♥  Russell Dameron 
Ryan Luetzow  ♥  Sarah Garr  ♥  Scott Smith  ♥  
The Lord of Chaos :O  ♥  Tiffiany Vaisenen  ♥  Tracey Motika  
Trent Call  ♥  Vanessa Marrek  ♥  Vaughn M. Dennis
♥♥ Thank you all so much for your patronage. Without you, the show would have been over a long time ago. ♥♥ ~Paul 
---
Recommended Reading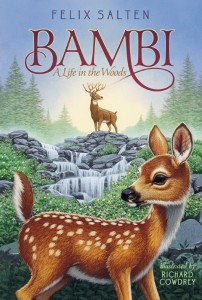 Bambi A Life in the Woods by Felix Salten
---
Bibliography
Print
"Bambi and the Idea of Conservation." The Idea of Nature in Disney Animation: from Snow White to WALL-E, by David Whitley, 2nd ed., Routledge, 2016, pp. 82–102.
Salten, Felix. Bambi: a Life in the Woods. Barton Press, 2011.
Film
Disney, Walt. Bambi. Walt Disney Studios Home Entertainment, 2017.
Disney, Walt. Bambi. Inside Walt's Story Meetings: Extended Edition, Bonus Features. Walt Disney Studios Home Entertainment, 2017
World Wide Web
Abad-Santos, Alexander. "The 'Bambi's Mom' Moment: When Pop Culture Taught Us About Death." The Atlantic, Atlantic Media Company, 30 Oct. 2013, www.theatlantic.com/entertainment/archive/2012/08/bambi-moment-when-pop-culture-taught-us-about-death/324507/.
"Animating Nature: The Making of Bambi." Oh My Disney, 12 Aug. 2016, ohmy.disney.com/movies/2016/08/12/animating-nature-making-bambi/.
"Bambi, a Life in the Woods." Wikipedia, Wikimedia Foundation, 3 Aug. 2018, en.wikipedia.org/wiki/Bambi,_a_Life_in_the_Woods.
"Bambi's Jewish Roots." Jewish Review of Books, 23 Sept. 2015, jewishreviewofbooks.com/articles/618/bambis-jewish-roots/.
Demosthenes. "Disney's Bambi." Fleischer Studios, 1 Jan. 1970, norlinreelhistory.blogspot.com/2011/04/disneys-bambi.html.
"Feeding Wildlife." National Parks Service, U.S. Department of the Interior, www.nps.gov/brca/learn/nature/feedingwildlife.htm.
Ferber, Alona. "The Man Who Wrote Bambi and Didn't Make a Dime from the Movie Was Born." Haaretz.com, Haaretz Com, 10 Apr. 2018, www.haaretz.com/jewish/.premium-this-day-bambi-s-father-is-born-1.5395430.
Gutenberg. "Eng." The Story of an Hour | Project Gutenberg Self-Publishing – EBooks | Read EBooks Online, www.gutenberg.us/articles/eng/bambi,_a_life_in_the_woods.
"How Did Bambi Lead to the Creation of Smokey the Bear?" Entertainment Legends Revealed!, 21 Oct. 2015, legendsrevealed.com/entertainment/2015/10/16/how-did-bambi-lead-to-the-creation-of-smokey-the-bear/.
"How 'Bambi' Hoodwinked American Environmentalists." What It Means to Be American, www.whatitmeanstobeamerican.org/ideas/how-bambi-hoodwinked-american-environmentalists/.
"Lutts: 'The Trouble with Bambi.'" Smokey's Revenge, www.history.vt.edu/Barrow/Hist2104/readings/bambi.html.
Ness, Mari. "Death and Survival: Felix Salten's Bambi: A Life in the Woods." Tor.com, 20 May 2015, www.tor.com/2015/05/07/the-disney-read-watch-bambi-a-life-in-the-woods/.
Villalobos, Ric. "The Problem With 'Bambi' The Rules And Knowledge Of Hunting Deer Are More Complicated Than The Film's Fans Realize." Spokesman.com, The Spokesman-Review, 28 Aug. 2011, www.spokesman.com/stories/1997/nov/02/the-problem-with-bambi-the-rules-and-knowledge-of/.
"Why Disney Movie Deaths Matter." /Film, 25 Aug. 2017, www.slashfilm.com/why-disney-movie-deaths-matter/.